Back to News
Jan De Nul Group and GoodFuels complete 2,000 running hours on sustainable marine biofuel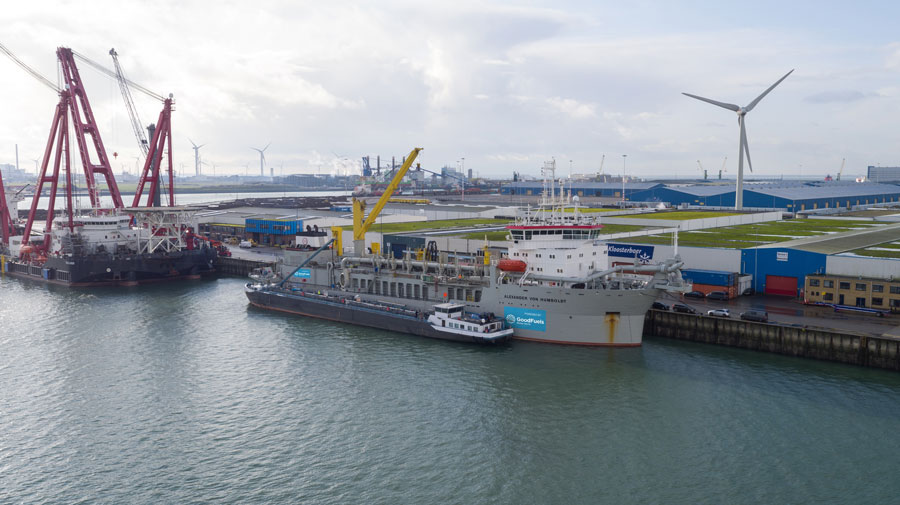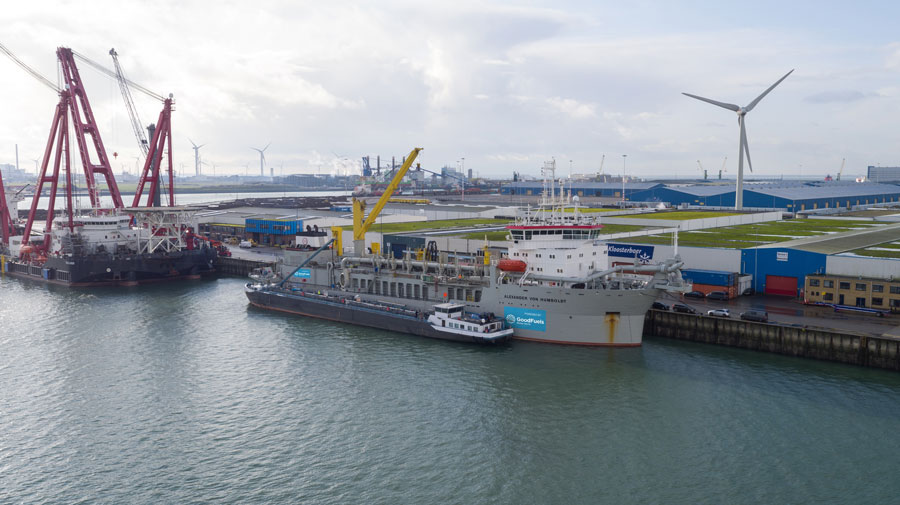 AMSTERDAM, 18 JUNE 2020: Marine biofuel pioneers GoodFuels, offshore energy experts Jan De Nul Group and MAN Energy Solutions have completed 2,000 running hours of 100% renewable Bio-Fuel Oil (BFO) on the hopper dredger Alexander von Humboldt, the companies have announced today.
This milestone represents the longest sustained trial of marine biofuel and further reinforces the continued successful adoption and commercialisation of the fuel solution, proving to the market that it can already be used as a drop-in fuel to help the industry meet its emissions reductions targets.
The important technical benchmark of 2,000 running hours proves the technical applicability and capabilities of sustainable marine biofuel in-operation, and opens the door to wider collaboration with OEMs, class societies, and the rest of the marine fuel supply chain to further accelerate uptake of the fuel solution.
Jan De Nul Group's trailing suction hopper dredger Alexander von Humboldt was refuelled at various stages over the last nine months with GoodFuels' BFO – also known as MR1-100 - which reduces CO2 emissions by 80% to 90% and is also sulphur-free. Alexander von Humboldt burned the fuel while conducting maintenance dredging works in Flemish seaports and the North Sea. The vessel's engine and propulsion chain were regularly tested as it ran with the biofuel, monitoring the impact of the fuel on temperature, shaft power and cylinder oil consumption – all of which remained normal throughout the trial.
BFO, which was launched by GoodFuels in 2018, is the first ever residual fuel-equivalent biofuel that is completely derived from sustainable waste and residue products, and was developed as a credible near-zero carbon solution to accelerate the energy transition.
Michel Deruyck, Head of Energy Department at Jan De Nul Group: "We will further explore the use of biofuel on other vessels, and continue the aim to achieve decarbonisation within our business. It's also paramount to involve our clients to meet these ambitious carbon reductions, since it's certainly not the most economical option of the fossil-dominated fuel supply industry. Moreover, this transitional biofuel solution needs to be a sustainable primary energy source. We are open to all other sustainable primary energy sources, but for the time being most of them are financially not competitive within the existing regulatory frameworks.
"With our choice of this sustainable marine biofuel, we want to prove to the governments and our clients that if they have climate ambitions and incorporate these in the selection procedures, the industry is ready for it."
"It is very important now that the right policies and regulations follow to leverage the full potential of BFO. Research into fuels of the future is useful, but it should not prevent us from using sustainable solutions already available today for the much-needed energy transition within the shipping industry."
Dirk Kronemeijer, CEO, GoodNRG Group, said: "We are delighted to have reached this important milestone of 2,000 running hours with Jan De Nul Group, which is by far the most comprehensive test of BFO ever conducted.
"Our findings categorically show that BFO is a solution to shipping's current solutions that requires minimal technical input and no changes to engine hardware. We look forward to continuing to work with Jan De Nul Group, engine manufacturers and our whole sector to scale and accelerate uptake of this credible, carbon-busting fuel solution."
Following the successful running on Alexander von Humboldt, Jan De Nul Group and GoodFuels will further explore the delivery and usage of biofuel in the sector, and continue the momentum needed to achieve decarbonisation in shipping.
Whitepaper
Start sustainable shipping now
Everything you need to know about sustainable shipping and biofuels for marine to kickstart your ambition.