Back to News
GoodFuels Successfully Trials World's First Ultra Low Carbon & Sulphur Drop In 'Bio-Fuel Oil' with NORDEN A/S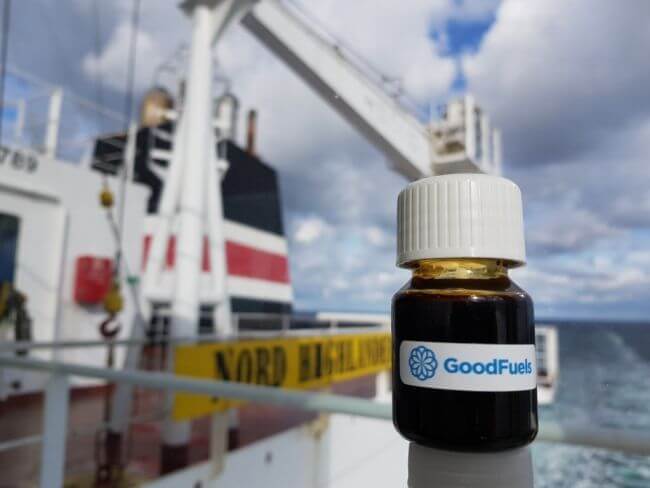 ROTTERDAM, November 30, 2018: GoodFuels Marine, the world's first supplier of sustainable low carbon marine fuels, in conjunction with bulker and tanker owner and operator NORDEN A/S, has successfully completed trials of the world's first zero emission, 'drop in' Heavy Fuel Oil (HFO)-equivalent marine biofuel – almost entirely reducing all carbon and sulphur emissions.
The culmination of three years of extensive research and development with partners including Royal Dutch Boskalis and technology group Wärtsilä, GoodFuels' Bio-Fuel Oil (BFO) delivers near-zero carbon and Sulphur Oxide (SOx) emissions without any requirement for engine modifications. The trials – which saw hundreds of tonnes of 'drop in' BFO taken onboard in the Amsterdam-Rotterdam-Antwerp region - were conducted on the 37,000 deadweight tonne (dwt) Handysize product tanker vessel NORD HIGHLANDER as she ran in typical commercial operation in the North and Baltic Seas.
The successful operation effectively means that there is the capability to future-proof fuel requirements for shipowners and operators who are seeking an alternative to both distillates and Ultra Low Sulphur Fuel Oil (ULSFO) in order to comply with 2020 0.5% sulphur cap requirements, as well as impending International Maritime Organisation (IMO) Greenhouse Gas (GHG) reduction requirements. These requirements include an objective to reduce average carbon intensity from shipping – the amount of carbon emitted for each unit of transport – by at least 40% by 2030, and 70% by 2050.
Dirk Kronemeijer, CEO GoodFuels Marine, commented: "We want to greatly thank NORDEN A/S for being a pioneer and for joining us as we take this crucial step towards developing a carbon-busting solution that is scalable, truly sustainable, technically compliant and – crucially - affordable. In our journey so far, we have focused on realising the widescale use of bio-marine gas oil (MGO) equivalent biofuel, but for over three years, we have been working day and night to develop our BFO solution.
"From this point onwards we want to scale supply as fast as we can in order to actively contribute to the world's 1.5 degree challenge."
Jan Rindbo, CEO, NORDEN, added: "NORDEN is proud to be at the forefront of testing and introducing CO2 neutral fuel that truly makes an impact on the highly important agenda of reducing the carbon footprint of shipping."
"NORDEN has come a long way in increasing fuel efficiency and has reduced CO2 emissions per tonne cargo transported on owned tanker vessels by 25% between 2007 to 2017. With the newly introduced IMO targets on CO2 reductions, however, it is evident that increased fuel efficiency alone is not enough. We need alternative solutions and with this test, NORDEN has shown a viable method towards reaching these targets."
"Now that we have proven CO2 neutral transport as a viable alternative, I am convinced many carbon-conscious customers will demand this type of transport within a foreseeable future."
NORDEN A/S and GoodFuels Marine will continue working with each other to gain more experience and scale usage of the fuel as an alternative to HFO, ensuring the realisation of the opportunity to offer commercially attractive carbon-neutral transport to meet customers' demands.
To support this aim, in 2016 GoodFuels founded The GoodShipping Program to further engage cargo owners in the challenge of combatting shipping's carbon emissions. In September 2018 the Program announced that five shippers had completely offset the carbon emissions of their cargo by refuelling a vessel with marine biofuels.